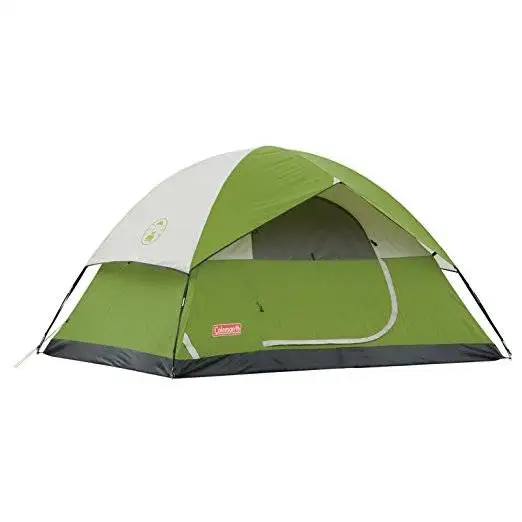 09 Aug

Coleman Sundome 4 Person Camp Tent Review

While there are many 4 person tents online, the Coleman Sundome 4 Person Tent is in the saddle. How can it not be when the name Coleman is known for its quality and ability to satisfy even the more strict customers? Continue reading this review in order to see for yourself where the success of this particular Sundome Camping Tent lies, its performing features, its pros and cons and of course, if it is worth buying.

                CLICK ON IMAGE TO BUY NOW

Performance and special features:

The Coleman Sundome 4 Person Tent is definitely what its title suggests. It is a roomy tent where 4 individuals can easily accommodate themselves. As it has a height of about 1.6 meters customers can not only sleep in there, but also stand up or move around quite comfortably. This, in addition to the tent's light weight and easy set up, contribute greatly to its popularity. The Coleman Sundome Tent is made of a resistant polyester fabric which gives the tent the necessary durability against rain or blowing wind. The floor is also made up of a polyethylene cover. The zippers are of high quality and they run easily without getting stuck.

Other special characteristics:

The tent has a large screen panel on its ceiling so you will definitely be able to enjoy the view when it's not raining. In addition, there is a window on the door for extra sightseeing. There is, also a vent near the door of the tent that allows airflow to pass nicely through the tent. At the center of the roof there is a small ring where you can hang whatever you want, a night lamp for example. Let me now summarize the pros of the Coleman's Tent as well as a few cons that exist.

              CLICK ON IMAGE TO BUY NOW

Pros-Easy to set up-High quality materials-Room for 4 people-Vent and large window-Rain and air protection

Cons-Not for very bad weather conditions ( not a very good choice for winter excursions )-Only the upper part of the door can get unzipped to reveal the window.

Overall, I can say for sure that the Coleman Sundome 4 Person Tent is a really good choice of tent for a summer expedition. Whether you decide to camp near the sea or near a mountain this tent will prove a great ally that will protect you from any unwanted weather conditions and give you a place to consider home for as long as your journey lasts.